Saturday, April 30, 2005
Slate-Kaplan: Bush can't be for real in his statements on Iraq & N. Korea - April 30
| | |
| --- | --- |
| war stories -- | Military analysis. |
Power Failure --
What Bush still doesn't understand about Iraq and North Korea.
By Fred Kaplan
Posted Friday, April 29, 2005, at 3:43 PM PT
Two questions prompted by President Bush's press conference Thursday night: Does he believe what he said about Iraq and North Korea, or was he just yakking? And which prospect is more disturbing?
If the president believes what he said, he doesn't comprehend the nature of either crisis. If he doesn't believe it and was just reciting the usual grab bag of clichés, what was his point? To deflect attention from an as-yet-undisclosed policy, or to obscure the lack of any policy at all?
On Iraq, a reporter at the press conference cited the recent comment by Gen. Richard Myers, chairman of the Joint Chiefs of Staff, that the insurgency is as strong today as it was a year ago and asked why we weren't doing better. President Bush replied:
I think he went on to say we're winning, if I recall. But nevertheless, there are still some in Iraq who aren't happy with democracy. They want to go back to the old days of tyranny and darkness and torture chambers and mass graves.
Does he really believe that this is the defining struggle in Iraq: the forces of democracy vs. the remnants of Saddam? Bush's own military officers and intelligence agencies have said, time and again, that the insurgency consists of several elements -- some Baathist holdouts and foreign terrorists, but also disparate Iraqis who oppose the American-led occupation and Sunni tribesmen who fear disenfranchisement and dispossession at the hands of a new Shiite-dominant regime.
The incipient Iraqi government faces multiple struggles: the insurgency, the difficulty of holding together a Cabinet almost no one is happy with, the control of Kirkuk's oil, the autonomy of Kurdish militias, the role of Islamic law, and the awesome struggle of drafting a constitution that can muster support from a two-thirds majority.
To reduce these disputes to a black-and-white formula--democracy on the one hand, tyranny on the other--is not only wrong but dangerous; it ensures that, to the extent the United States can influence the course of events, its efforts to do so will be heavy handed and misguided and therefore will fail.
On North Korea, President Bush's remarks are more worrisome because they seem to reflect a passivity--stemming from miscalculation, self-deception, or sheer cluelessness--in the administration's policy.
A reporter asked about the Defense Intelligence Agency's recent finding that North Korea probably has the ability both to build atom bombs and to load them on long-range missiles. Bush replied:
That's why I've decided the best way to deal with this diplomatically is to bring more leverage to the situation by including other countries. It used to be that it was just America dealing with North Korea. And when Kim Jong-il would make a move that would scare people, everybody would say, "America, go fix it." I felt it didn't work -- the bilateral approach didn't work. The man said he was going to do something and he didn't do it, for starters. So I felt a better approach would be to include the people in the neighborhood into a consortium to deal with him. It's better to have more than one voice sending the same message to Kim Jong-il.
It's hard to know where to begin untangling this web of non sequiturs. (For a point-by-point guide, click here.) The point to emphasize here is that the president's analysis of North Korean diplomacy, like his remark about the Iraqi insurgency, displays an odd incomprehension about the nature of power in international politics.
To the extent that the North Koreans still want to make a deal that involves forgoing their nuclear ambitions, the deal can be made only with the United States. It is the United States (not Japan, South Korea, Russia, or China--the other countries of the "six-party talks") that poses a threat to Kim's regime, in its capabilities and (especially since Bush's "axis of evil" speech) its expressed intent. And only the United States can offer the security guarantees and the economic assistance that might lure Kim to back down from his present path.
For two-and-a-half years--ever since North Korea booted the international inspectors out of its nuclear reactor, abrogated the Non-Proliferation Treaty, unlocked its fuel rods, and reprocessed them into plutonium--Kim's emissaries and America's own East Asian allies have told President Bush that the crisis won't be settled until negotiators from Washington and Pyongyang sit down and talk, one-on-one. Diplomats have floated the idea of bilateral talks within the multilateral forum; during Bush's first term, Secretary of State Colin Powell favored such talks. But, under the guidance of Vice President Dick Cheney and Secretary of Defense Donald Rumsfeld, Bush consistently nixed the idea.
In one sense, President Bush was right at his press conference: It is better to have several voices sending the same message to Kim Jong-il. But these voices don't matter if the one voice among them that can do something--that can turn the message into policy and action--chooses to do nothing.
Again, the question: Does Bush believe what he said? Does he think the six-party talks--which have long stalled and which the North Koreans now say they will no longer attend--can ever amount to anything without a shift in U.S. policy? In short, does he really not understand why the North Koreans want one-on-one talks? Is he really blind to the power politics of the situation--to the power that the North Koreans are trying to amass by going nuclear and to the power that they see in the United States as the one country that can provide those security guarantees?
Ultimately, as with his boilerplate on Iraq, I don't think President Bush does believe what he said. The simple matter is that he doesn't want to give the North Koreans any favors, including the favor of stature that would come from letting them sit across a bargaining table from the United States. He believes--perhaps rightly--that negotiating with North Koreans, and agreeing to give them aid, would only perpetuate Kim Jong-il's regime. But Bush's main desire is to change that regime--if not by force (which, his military advisers tell him, is too risky), then by simply letting it collapse.
But what if Kim's regime doesn't collapse, at least in the next few years? What if, in the meantime, Kim builds a dozen or so nuclear bombs and, following the DIA's frightening scenario, puts them on missiles? Does this lead to a better result--in terms of U.S. security interests--than swallowing hard, calling for a resumption of bilateral talks, and at least seeing where they go? Apparently, Bush thinks not, or perhaps he hasn't thought the dilemma through. Either way, his inaction marks another instance where he has let an abstract ideal (refusing to reward a nasty tyrant) trump a hardheaded national-security interest that, in this case, doubles as a very tangible ideal (preventing a nasty tyrant from building nukes).
Fred Kaplan writes the "War Stories" column for Slate. He can be reached at
war_stories@hotmail.com.
Source: http://www.slate.com/id/2117761/.
Jeff Benson: Come to DC this summer for campaign training
June 2005 Campaign Training
21st Century Democrats began training field staff and activists in 1999, in order to meet the needs of our endorsed candidates for effective organizers and volunteer leaders. Our annual D.C. campaign training is an intense, four-day experience that leaves graduates prepared to become a field director on a state legislative race or an effective paid or volunteer organizer on any campaign. The training features presentations by top campaign professionals during the day, and an ongoing campaign simulation in the evenings, in which small groups write a detailed field plan. Over 4,500 activists have completed our annual training since 1999. Our alumnae network is now a powerful force on Democratic campaigns at all levels, and many of our training graduates served in senior positions in 2004.
Take advantage of this opportunity! Click here to register for our 2005 training!
Dates, Location and Times
The training will take place June 3 – 6, 2005, on the American University campus in Washington, D.C. While times are not yet finalized, we expect to begin registration around 10:00 am on Friday, June 3 and complete all activities by 3:00 pm on Monday, June 6. The training will include evening/night activities Friday through Sunday.
Training Agenda
Our annual D.C. Campaign Training is an intense, four-day experience and requires all participants' full time commitment each day. The training features presentations by top campaign professionals during the day, and an ongoing campaign simulation in the evenings, in which small groups write a detailed field plan. The training is designed to simulate campaign hours and intensity. Thus, training participants must be prepared for late evenings. See sample schedule.
Who Should Attend
Campaign Managers
Field Directors
Field Staff
Candidates
Paid or Volunteer Organizers
Anyone interested in learning how to become a Field Director
People of all ages and levels of experience
Cost
The training fee is $250 per person. This covers three nights lodging on the American University campus, all meals during the training and all training materials. Following registration, the fee can be paid by credit card through our secure web site or by mailing a check made payable to "21st Century Democrats" to the attention of Cameo Kaisler at 1311 L Street, NW #300, Washington, D.C. 20005.
Scholarships
While we make every effort to make our training affordable for everyone interested in participating, we realize that some individuals may require financial help in order to attend. For that reason, 21st Century Democrats offers a limited number of full and partial scholarships. Click here for more information and to apply. Please submit scholarship applications no later than May 16th. Full story: http://www.21stcenturydems.org/index.php?submenu=training&src=gendocs&link=Training%20Index&category=About%20Us.
D.H.: Thx to Jeff Benson for sending me this information from:
Tom Manatos
Office of the Democratic Leader
Advisor to the Leader
202-225-0100
Dave Haigler: peacemakers vs. fomenters of strife
Walker, Texas Ranger, rerun reminds me of Rove
Lubbock, April 30--Becky & I are in Lubbock doing grandparent duty -- a hard job, but somebody's gotta do it. Getting hugs from granddaughters 16, 6 & 3 should qualify me for combat pay; but I digress.
You know how it is when you're away from home -- you indulge yourself with things you wouldn't ordinarily do, like watch TV. Sorry, if you were thinking of something more exciting.
So I get hooked on a "Walker, Texas Ranger" rerun, right? You realize, if this was a letter to the editor, or an op-ed piece, all this introduction would have to go, but this time I am the editor, so sit back and enjoy this if you can.
The plot was simple. Walker rediscovers an old gang warlord that he once sent to prison, who now has returned to the community and set up a Christian community center in the gang neighborhood and is rehabilitating the kids through basketball and a message of Christian non-violence.
At first, shooting hoops with the oldsters is not as kewl as doing drugs and busting heads of other gang members of other races. In this scene, it's the blacks vs. the whites, with an apparent-Hispanic thrown in as the head drug pusher in the stretch limo.
But Walker (did this guy ever have a first name?) turns on the charm, and I'm not talking about the good-bye kiss to his girlfriend. A variation of the theme, "if you're not good enough to handle it," entices the first gang member into the gymn for some hoops, and the rest soon follow.
They start with "a little child shall lead them," and soon older gang members are involved. The nemesis is the team from Denton, a little burg from north of Ft. Worth.
All this basketball practice causes a downturn in the druglord's accounts receivable, and he sends in a team to remodel the community center in a negative way. But never mind, the gang kids redouble their efforts to show it was not one of their own who destroyed the gymn, and work hard to restore it.
The big game starts out with Denton taking an early and hefty lead, setting up the half-time locker-room pep talk from the ex-con coach. His secret of success was rearranging the team members' seating order so that blacks and whites are interspersed with each other instead of apart in racial cliques. Teamwork means brotherhood, was the message. As the second half swings into high gear, the gangs' team soars and scores the winning hoop as the buzzer goes off.
The gang warlord, of course, was not to be seen taking this sitting down, so he tries to foment more racial strife by pitting the gangs against each other once again. But the basketball comraderie prevails, and the guys give a nonchallant "whatever" to the warlord's appeals.
Since his war of words didn't work, the warlord kidnaps the ex-con coach, and the gang members join together for a daring rescue. The coach is about to be hanged when the rescuers arrive, just in time. They initially want to retaliate against the drug warlord and hang him instead, but the coach's message of non-violence prevails and the warlord is led off to jail instead.
Thinner and better looking, for sure, but the warlord reminded me of Karl Rove. Hopefully, his divisive tactics in our nation's politics will eventually fail as well.

-Dave Haigler, Taylor County Democratic Chair
lawyer/mediator/NASD securities arbitrator
email is Dave@Haigler.Info
webpage: www.haigler.info
NYTimes-Dowd: Thiefs & repressive Anti-American thugs emerging in Iraqi leadership
Swindler on a Gusher
By MAUREEN DOWD



Published: April 30, 2005



WASHINGTON


The Iraqis have thrown us another curveball.

Ahmad Chalabi - convicted embezzler in Jordan, suspected Iranian spy, double-crosser of America, purveyor of phony war-instigating intelligence - is the new acting Iraqi oil minister.

Is that why we went to war, to put the oily in charge of the oil, to set the swindler who pretended to be Spartacus atop the ultimate gusher?

Does anybody still think the path to war wasn't greased by oil?

The neocons' con man had been paid millions by the U.S. to tell the Bushies what they wanted to hear on Iraqi W.M.D. A year ago, the State Department and factions in the Pentagon turned on him after he began bashing America and using Saddam's secret files to discredit his enemies.

Right after the invasion, the charlatan was escorted into Iraq by U.S. troops and cultivated an axis of Americans, Iraqis and Iranians. He got a fancy house with layers of armed guards and pulled-down shades, and began helping himself to Iraqi assets. The U.S. occupation sicced the Iraqi police on his headquarters only after an Iraqi judge ordered thugs in the Chalabi posse arrested on suspicion of kidnapping, torture and theft.

Newsweek revealed that the U.S. suspected Mr. Chalabi of leaking secret information about American war plans for Iraq to the Iranians before the invasion, and of perhaps leaking "highly classified" information to Iran that could "get people killed" if abused by the Iranians. Mr. Chalabi claimed the Iranians set him up.

In August of last year, while he was at a cabin in the Iranian mountains, the Iraqis ordered him arrested on counterfeiting charges, which were later dropped for lack of evidence.

Now, showing survival skills that make Tom DeLay look like a piker, the resourceful Thief of Baghdad has popped back up as one of the four deputy prime ministers and the interim cabinet minister controlling the one valuable commodity in that wasteland: the second-largest oil reserves after Saudi Arabia. He even has a DeLay-like talent for getting relatives on the payroll: a Chalabi nephew is the new finance minister.

Anthony Cordesman, a Middle East expert at the Center for Strategic and International Studies in Washington, told Reuters that many Iraqis would consider the plum oil job for Mr. Chalabi "putting a fox in charge of the henhouse." The choice, he added, "is going to make it extremely easy for people to make charges about corruption."

Oil isn't on the front burner only in Iraq. Mr. Bush and Dick Cheney know that time is running out to pay back the Texas buddies who sent them here with an energy bill. So those two oilmen are frantically pushing one loaded with giveaways to the oil industry at a time when it's already raking in huge profits because of high gasoline prices.

In Baghdad, we may wind up with a one-man Enron - never underestimate the snaky charmer. And the draconian efforts of Mr. Chalabi and other Shiites in power to purge Baathists from the government will breathe fire into the insurgency.

Mr. Bush wanted Iraq to have a democracy like ours. It's on its way, nearing an ethics-free zone where a corrupt official can hold sway and a theocracy can curb women's rights.

Another big winner in the new Iraqi cabinet is Moktada al-Sadr, the Shiite cleric who scurried away like a rat across the desert after he led two armed uprisings and caused a lot of American and Iraqi troops to die. His political movement got three ministries - health, transportation and civil society - and Sadr allies will try to give the scofflaw cleric legal protections so he can slink back into a leadership role.

Ayad Allawi, the Shiite who was supposed to keep the government secular and bring in Sunnis to blunt the insurgency, has been marginalized. That leaves the government to be ruled by men rooted in the sort of conservative Shiite religious politics that will not produce a new dawn of equality for Iraqi women.

The new prime minister, Ibrahim al-Jaafari, is a devout Shiite from the Dawa Party. As John Burns wrote in The Times yesterday, the Dawa Party was "fiercely anti-American during their exile years under Mr. Hussein, and Dawa was implicated by American intelligence in terrorist acts across the Middle East, including a 1983 bombing of the American Embassy in Kuwait."

The bad news: This is not an Iraqi government that will practice Athenian democracy or end the insurgency. The other bad news: If Dr. Jaafari falls, Ahmad Chalabi will be there to pick up the pieces.

E-mail: liberties@nytimes.com. Source: http://www.nytimes.com/2005/04/30/opinion/30dowd.html?.



Friday, April 29, 2005
Newsweek: Has Bush lost his political touch?
Bush's Political Capital
Across a range of issues, the president seems to have lost his touch. Can he recover?
| | |
| --- | --- |
| Rod Aydelotte / Getty Images-Pool | |
WEB-EXCLUSIVE COMMENTARY
Chief Political Correspondent
Newsweek
Updated: 5:58 p.m. ET April 27, 2005
You've got to hand it to the PR geniuses at the White House. There's nothing like back-to-back Texas photo ops with Crown Prince Abdullah and Rep. Tom DeLay to give Americans a visceral sense that the Boss is on top of the gas-price situation and desperate to save working folks cash at the pump. Just kidding, of course.
Actually, it's hard to imagine two political events LESS likely to win the president points. George Bush held hands and pecked cheeks with Abdullah in traditional desert fashion -- but the prince gave him the back of his hand on the issue of the moment: oil supply and prices, which the Saudis essentially control. Then the president welcomed the embattled DeLay into his photo space in Galveston. That was no energy-issue coup, either. Until lobbyist Jack Abramoff came into the picture, DeLay's best-known corporate ties were to corporate titans such as Kenneth Lay of Enron in his home town of Houston.
Across a range of issues, and in a number of subtle and not-so-subtle ways, the Bush administration seems to have lost its touch. Is it losing momentum in a serious and permanent way?
Yes, Bush has been down politically before, and recovered smartly. He's a fighter, and has the ability to ignore the gloom and doom around him. Yes, the Democrats don't have much of an answer to him other than to shout "no" on a host of issues. Still, despite Republican control of virtually every lever of power in Washington -- in a way because of that very fact -- Bush finds himself playing defense. Full story: http://www.msnbc.msn.com/id/7656009/site/newsweek/?rf=nwnewsletter.
CNN: DeLay debate creates rare House minority victory
By Bill Schneider
CNN Political Unit
Friday, April 29, 2005 Posted: 3:37 PM EDT (1937 GMT)
(CNN) -- This week a beleaguered minority enjoyed a rare victory in American politics -- rare enough to make it the political Play of the Week.
You might call the minority party in the House of Representatives the most oppressed minority in American politics. Unlike the Senate minority, which can bottle up legislation, the House minority has no power.
Except on the House Ethics Committee, where both parties have equal representation.
In January, Republicans changed the ethics committee's rules in an apparent move to protect beleaguered Majority Leader Tom DeLay.
Democrats were outraged.
"Four months ago, when they thought no one was looking," New York Rep. Louise Slaughter, a Democrat, said, "the Republican majority of this House passed a rules package that gutted the house ethics standards and effectively neutered the house ethics committee."
Democrats refused to allow the committee to organize. That put off any investigation And kept DeLay's troubles on the front pages.
On Wednesday the Republicans gave in and repealed the rules changes.
Democrats were triumphant.
Republicans tried to put a positive spin on their retreat.
"Because I believe it is damaging to this institution to allow one side of the House to shut down the Ethics Committee," Rep. Doc Hastings, a Republican of Washington and the committee chairman said, "I have concluded that we must return, for now, to the rules of the past Congress."
The GOP leadership distributed "talking points," one of which said, "Rather than let the Democrat 'My way or the highway' strategy drag on, House Republicans have elected to take the high road."
Highway or high road, it was the only path to resolution of the Tom DeLay matter.
"I think there's a member," Speaker Dennis Hastert said, " especially on our side, that needs to have the process move forward so he can clear his name. Right now, we can't clear his name.''
The long-suffering minority Democrats held fast. For them it was a moment to savor.
"For those of us who have opposed these rules changes from the outset," senior committee Democrat Alan Mollohan of West Virginia said, "it has been a long, difficult effort, and it is gratifying to see it finally succeed."
It is also the political Play of the Week.
Now that the ethics committee can function again, there is some concern over an ethics war, with members of each party filing charges against members of the other party.
So last week, a lot of House members were rushing to amend their travel reports. Just in case. Source: http://www.cnn.com/2005/POLITICS/04/29/ethics/index.html.
ARN Letters: Dems and religious liberty, by Lauren Edwards
Lauren Edwards (center) shown here with her friends Charlie Stenholm and Sharon Norman.



ARN Letters to the Editor - April 29, 2005


I do not understand why Ernest Wiatrek is so confused. He wrote on April 20 that Democrats today are ''secular, elitist, and confrontational . ... why must they assault our religious liberty?'' Democrats ''bellyache'' not against the First Amendment, but in protection of it.
Dave Haigler, whose letter prompted the attack, is a Christian and religious liberty defense lawyer. Our founding fathers knew there had to be neutrality at the federal level so all could participate in government, not just different denominations running each different state. How much more important is this today in an America represented by more faiths than Christianity? Voluntary prayer at football games is a giant step in that direction that I applaud as a Democrat. Mandatory, or teacher-led, prayer in the school crosses the line of ''free exercise.''
Democrats realize that everyone in the country is not a Christian and wishes to exercise their faith the way that is appropriate for them. I did not support Chief Justice Roy Moore, who displayed the Ten Commandments display illegally, when there was an appropriate (and legal) route he could have taken. He made himself a martyr, though, as he furthered the religious right's cause to interpret free expression in a way that excludes other beliefs.
Thank God we live in a nation where religious liberty is important and maintained by the Constitution.
Lauren Edwards
Abilene
CNN-AP: Putin pledges to help Palestinians
Friday, April 29, 2005 Posted: 8:35 AM EDT (1235 GMT)
The Palestinians and Moscow have a long history of political and cultural cooperation dating to the Cold war, when the Soviet Union backed Arab states and the Palestinians in their fight against the U.S.-backed Israelis.
Photo - Putin with Abbas: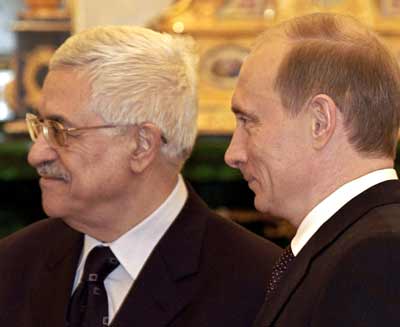 D.H.: It looks as though the Russian president is seeking to provide a little balance to the Bush administration's pro-Israel position.
RAMALLAH, West Bank (AP) -- Russian President Vladimir Putin said Friday he would give equipment and training to Palestinian security forces and he offered to help rebuild the Palestinians' crumbling infrastructure in Gaza, which Israel is withdrawing from this summer.
Putin met for about two hours with Palestinian leader Mahmoud Abbas in the West Bank city of Ramallah on the third day of his historic visit to the region. The two leaders focused on the Middle East peace process and aid from the Russians to the Palestinians.
Putin was greeted Friday morning at the Palestinian headquarters here, known as the muqata, by an honor guard of Palestinian security forces. A military band played a halting version of Russia's national anthem and the Palestinian anthem as Putin and Abbas stood side by side.
Security officers then placed a wreath, with a banner reading "from the president of the Russian Federation," before the tomb of the late Palestinian leader Yasser Arafat. Putin approached, bowed his head, stood silently at attention for a few seconds, bowed again and walked away. Full story: http://www.cnn.com/2005/WORLD/meast/04/29/meast.putin.ap/index.html.
Fla. Sun-Sentinel: On church, state and federal judges
The Rev. Bob Uhlar
Hollywood
Posted April 28 2005
I am disappointed that some conservative elements of our country continue to attack the "separation of church and state" in a quest to get a few federal judges approved by the Senate. These elements claim that we are removing God from our country.
There is a major difference between the separation of God and state and the separation of church and state.
The separation of God and state is impossible (God is omnipresent). The separation of church and state is imperative to the United States of America. The "church" is any human religious institution (and its zealots) that would seek to impose its beliefs on others.
Our Founding Fathers added the Bill of Rights because religious zealots were already establishing local theocracies (believe what we believe, move or die). That sounds good -- provided you are the ones in power. The American colonies were formed by people escaping religious oppression and persecution.
On Sunday morning, a group of political zealots held a teleconference in churches across the country to convince the gullible that having fair and impartial judges is detrimental to God and to America. They seek to convince the gullible to fulfill their political agenda and change the parliamentary procedures of the U.S. Senate.
This is not the first time in our history that "the misguided" have sought to gut our Constitution. I prefer to think that our Founding Fathers knew what they were doing. Source:
http://www.sun-sentinel.com/news/opinion/letters/sfl-brmail839apr28,0,4929362.story?coll=sfla-news-letters
.
Sojourners-Jim Wallis: An attempt to hijack Christianity
by Jim Wallis
Last week, I wrote about the "Justice Sunday" event held at a Louisville, Kentucky, mega-church. James Dobson of Focus on the Family, Tony Perkins of the Family Research Council, Prison Fellowship's Chuck Colson, and Southern Baptist leader Albert Mohler were joined by Senate Majority Leader Bill Frist on video in the event titled "Stop the Filibuster Against People of Faith." Of course, I have no objection to Christian leaders expressing their faith in the public arena - it's a good thing that I do all the time. The question is not whether to do so, but how. As I heard more and more about "Justice Sunday," it felt to me like it was crossing an important line - saying that a political issue was a test of faith.
So, when I was invited to speak at an interfaith "Freedom and Faith" service at Central Presbyterian Church in Louisville, I agreed. On Sunday morning, I flew to Louisville, and that afternoon addressed more than 1,000 people who attended the rally. I didn't go to say that these leaders shouldn't bring their faith into politics; the issues concerning them - abortion and family values - are also important to me. But the way they were doing it was wrong. The clear implication of their message was that those who opposed them are not people of faith.
We can get some historical perspective by looking at how Dr. Martin Luther King Jr. did it - and he was the church leader who did it best. Once after he was arrested, he wrote a very famous "Letter from a Birmingham Jail," addressed to the white clergy who were opposing him on the issues of racial segregation and violence against black people. Never once did he say that they were not people of faith. He appealed to their faith, challenged their faith, asked them to go deeper with their faith, but he never said they were not real Christians. If Dr. King refused to attack the integrity and faith of his opponents over such a clear gospel issue, how can the Religious Right do it over presidential nominees and a Senate procedural issue known as the filibuster?
After the "Justice Sunday" event, and the controversy surrounding it, some of the sponsors are denying they ever claimed that those who oppose them are hostile to people of faith. Yet their words stand for themselves. In the letter announcing the event on the Family Research Council Web site, Tony Perkins wrote: "Many of these nominees to the all-important appellate court level are being blocked...because they are people of faith and moral convictions.... We must stop this unprecedented filibuster of people of faith."
So, I told the Louisville rally that when someone has stolen our faith in the public arena, it is time to take our faith back. "Justice Sunday" was an attempt to hijack Christianity for a partisan and ideological agenda. Those on the Religious Right are declaring a religious war to give their version of faith religious supremacy in America. And some members of the Republican Party seem ready almost to declare a Christian theocracy in America. It is time to take back both our faith and our Constitution.
It is now clear there are some who will fight this religious war by any means necessary. So we will fight, but not the way they do. We must never lie or misrepresent the facts or the truth. We must not demonize or vilify those who are our opponents. We must claim that those who disagree with our judgments are still real people of faith. We must not fight the way they do, but fight we must. A great deal is at stake in this battle for the heart and soul of faith in America and for the nation's future itself. We will not allow faith to be put into the service of one political agenda.
This is a call for the rest of the churches to wake up. This is a call for people of faith everywhere to stand up and let their faith be heard. This is not a call to be just concerned, or just a little worried, or even just alarmed. This is a call for clear speech and courageous action. This is a call to take back our faith, and in the words of the prophet Micah, "to do justice, to love kindness, and to walk humbly with our God."
Watch streaming video of Jim's message at the "Freedom and Faith" service:
RealPlayer
Windows Media Player
---
Read more about "Justice Sunday" and Sojourners' efforts to offer an alternative view. Some sites may require registration.
Frist seeks Christian support to stop filibusters
+ The New York Times
Religion, politics intersect in 'Justice Sunday'
+ Lexington Herald-Leader
Christians square off over battle for judiciary
+ Chicago Tribune
Battle over benches spills across pews
+ Los Angeles Times
Religious conservatives speak out against Democrats' use of filibuster
+ The Kansas City Star
Foes attack event as intolerant
+ The Courier-Journal (Louisville)
WashPost's Dionne: Bush the Egghead - theoretical, not practical
Practicality Never Stops a Nice Theory
By E. J. Dionne Jr. -- Friday, April 29, 2005; Page A23
President Bush's critics have him all wrong. They think of him as an anti-intellectual, opposed to theory and disdainful of grand ideas.
To the contrary. George W. Bush's spring of discontent arises from a fact that no one dares to notice: George W. Bush is an egghead.
I doubt this is a thought that comes to most people at the end of a Bush news conference. Indeed, to praise or criticize Bush for eggheadism risks disdain from left and right.
Many liberals have long worn the "egghead" epithet as a badge of honorable intellectualism. They would never want to share it with Bush. Older liberals still treasure the late Adlai Stevenson, the original egghead and the failed Democratic presidential candidate in 1952 and 1956. Stevenson was probably less of an intellectual than people thought, but the image stuck.
The notion of Bush as an egghead no doubt appalls conservatives, too. People on the right have long savored attacking their opponents as "pointy-headed intellectuals" -- the late George Wallace's phrase was widely popular. Spiro T. Agnew, Richard Nixon's vice president, had perfect right-wing pitch when he assailed his boss's opponents as an "effete corps of impudent snobs who characterize themselves as intellectuals." That dismissive phrase -- "who characterize themselves as intellectuals" -- was nothing short of brilliant.
But with apologies to both sides, the case for Bush as an egghead is overwhelming. One of the central characteristics of the Bush presidency is a profound commitment to theoretical notions, nurtured in think tanks and ideological magazines, and a relentless -- yes, even principled -- commitment to pushing them regardless of the facts or the consequences.
The president's proposal for private accounts in Social Security is Exhibit A for eggheadism. There was little popular demand for these accounts. Most Americans like Social Security as it is. The private accounts idea was nurtured primarily in libertarian and conservative research organizations such as the Cato Institute, the National Center for Policy Analysis and the Heritage Foundation. Full article: http://www.washingtonpost.com/wp-dyn/content/article/2005/04/28/AR2005042801568.html.
D.H.: Dionne goes on to say the private accounts idea is pushed despite no real-world market for it, and the Iraq war advanced over the egghead idea of democratizing the Middle East, not really WMD. And the theory that tax cuts lead to economic growth, which leads to cutting deficits -- never mind the latest tax cuts actually have given us the largest deficits in history.
Thursday, April 28, 2005
Bush press conference: Bush repudiates FRC/religious-right claim that judge nominees are opposed on their faith
April 28 -- President Bush said tonight that his current judicial nominees are being opposed because of their conservative judicial philosophy, not their faith. The question and his answer on this are as follows:
Q: Mr. President, recently the head of the Family Research Council said that judicial filibusters are an attack against people of faith. And I wonder whether you believe that, in fact, that is what is nominating Democrats who oppose your judicial choices. And I wonder what you think, generally, about the role that faith is playing, how it's being used in our political debates right now.
BUSH: I think people are opposing my nominees because they don't like the judicial philosophy of the people I've nominated. And some would like to see judges legislate from the bench. That's not my view of the proper role of a judge.
Speaking about judges, I certainly hope my nominees get an up-or- down vote on the floor of the Senate.
They deserve an up-or-down vote.
I think, for the sake of fairness, these good people I've nominated should get a vote. And I'm hoping that will be the case as time goes on.
Role of religion in our society? I view religion as a personal matter. I think a person ought to be judged on how he or she lives his life or lives her life.
And that's how I've tried to live my life: through example.
Faith plays an important part in my life individually. But I don't ascribe a person's opposing my nominations to an issue of faith.
Q: Do you think that's an inappropriate statement? And what I ask is ...
BUSH: No, I just don't agree with it.
Q: You don't agree with it?
BUSH: No. I think people oppose my nominees because of judicial philosophy.
Q: Sir, I asked you about what you think of ...
BUSH: No, I know what you asked me.
Q: ... the way faith is being used in our political debates, not just in society generally.
BUSH: Well, I can only speak to myself. And I am mindful that people in political office should [not] say to somebody, You're not equally American if you don't happen to agree with my view of religion.
As I said, I think faith is a personal issue. And I take great strength from my faith. But I don't condemn somebody in the political process because they may not agree with me on religion.
The great thing about America is that you should be allowed to worship any way you want. And if you chose not to worship, you're equally as patriotic as somebody who does worship. And if you choose to worship, you're equally American if you're a Christian, a Jew, a Muslim.
And that's the wonderful thing about our country and that's the way it should be.
Full transcript: http://www.washingtonpost.com/wp-dyn/content/article/2005/04/28/AR2005042801893_5.html.
People of America -- Press Conference 4
Bush said he talked to "the people of America" during the last 60 days and they backed him on Social security.

This is a big lie.....he talked to vetted audiences of Republicans.

-Terry Barhorst

P.S.: Oh yeah, he read the answers to some questions.

press conference 3
He demanded an "up or down vote" on judges.

He admitted gas prices were from oil price.

He backed away from Dobson.....

Terry

Press conference 2
Bush went around a question about "no child left behind" law suits.

He said, T bills are a good investment for the private accounts. Earlier he said that for social security T bills were worth nothing.

He said there is nothing he can do about gas prices.

Terry

The press conference
I'm still watching Bush's press conference, but I had to write this.
Bush just stated that "Christians, Jews, and Moslems have freedom to
worship as they wish." I guess the rest of us don't count.

He essentially said the just announced record amount of deaths from terrorism overseas was because we are aggressively winning the war on terror.

He said it didn't matter what the polls said, he was going with hsi "plan" for social security.

Terry

Bush's press conference
I'm still watching Bush's press conference, but I had to write this. When asked about Dobson one of Bush's statements was that "Christians, Jews, and Moslems should the have freedom to worship as they wish." I guess the rest of us don't count.

When asked about the just announced amount of deaths in the "war on terror" he said we're fighting it overseas and being aggressive..... What the hell does that mean?

-Terry Barhorst

One-sided concerns, by Mark Thorne
Regarding the 13 year old Florida girl who wants an abortion: How can she know she will not be plagued by post-abortion syndrome the rest of her life? Who is standing for the rights of her unborn child?
Regarding the Alabama bill about school libraries: What's wrong with being concerned about the quality of materials our children read. We do not allow full constitutional rights to minors. We want them to be healthy, not be exposed to everything the world has to offer before they're old and mature enough to handle it.
Regarding the harping about Tom DeLay: It's so hypocritical. I bet most of the House members fudge a little on their ethical reporting. We all know lobbyists pay for things. What's the big deal? It's because he's a conservative, that's why. If you Democrats had not shut down the Ethics Committee in January, Mr. DeLay could have cleared his good name by now. Good grief -- the man cannot even smoke a cigar in Israel without someone making a big deal about it. Next we'll hear he farts when he goes to the bathroom. Give the man a break!
Regarding terrorism reporting: I think President Bush is doing a good job fighting terror, and should be given a little slack on all these supposed rights for terrorists.
Regarding John Bolton: I think we need a kick-ass and take-names kind of guy at the U.N. We pay too great a percentage of the bills there anyway, for all the good it does us. They never support us when the chips are down. It's nothing but an endless debating society anyway. And who knows who all had their hands in the till on the oil-for-food scandal. How many kickbacks did Kofi's son have to pay to get his deal?
- J. Mark Thorne
WashPost: DeLay Is Likely to Be Found Culpable
Analysis
Experts Weigh Potential Defense
By Jeffrey H. Birnbaum

Washington Post Staff Writer
Thursday, April 28, 2005; Page A06

Now that it's clear that his controversial private-paid trips abroad will be put under a microscope in Congress, Tom DeLay is in serious danger of being declared in violation of House ethics rules, legal experts say. Full article: http://www.washingtonpost.com/wp-dyn/content/article/2005/04/27/AR2005042702053.html.

D.H.: The experts interviewed speculated that DeLay's best defense might be that he did not know about the illegal acts the lobbyists were doing. But the focus is expected to be what he knew, or should have known. Also, the very process of inquiry is expected to be harmful to DeLay.
CBS: Alabama Bill Targets Gay Authors, Subjects
MONTGOMERY, Ala., April 27, 2005--A college production tells the story of Matthew Sheppard, a student beaten to death because he was gay.
And soon, it could be banned in Alabama.
Republican Alabama lawmaker Gerald Allen says homosexuality is an unacceptable lifestyle. As
CBS News Correspondent Mark Strassmann
reports, under his bill, public school libraries could no longer buy new copies of plays or books by gay authors, or about gay characters.
"I don't look at it as censorship," says State Representative Gerald Allen, pictured here.
"I look at it as protecting the hearts and souls and minds of our children."
Books by any gay author would have to go: Tennessee Williams, Truman Capote and Gore Vidal. Alice Walker's novel "The Color Purple" has lesbian characters.
Allen originally wanted to ban even some Shakespeare. After criticism, he narrowed his bill to exempt the classics, although he still can't define what a classic is. Also exempted now are Alabama's public and college libraries. Full story:
http://www.cbsnews.com/stories/2005/04/26/eveningnews/main691106.shtml
.
D.H.: Maybe Allen can't define "classic" because he's never read one. It never ceases to amaze me how some lawmakers will pass such silly laws with no consideration to the fact that they are totally unenforceable and patently unconstitutional. Are we going to have a state registry of "gay authors?" Who knows who's a gay author? But the good old boys back home will think this guy is really standing up for God and country. They may not have a job anymore, because outsourcing to India is good for America, the Bushies say, and the minimum wage may never go up again, but, "by God, we're gonna stop that 'gay agenda,'" whatever that is. Actually -- may God help us!
Time Mag.: Anti-Castro Majority Leader Tom DeLay enjoys a fine Cuban cigar
Wednesday, Apr. 27, 2005 - by Karen Tumulty
Sometimes a cigar is just a cigar. And sometimes, according to House Majority Leader Tom DeLay, a cigar is an economic prop to a brutal totalitarian regime. Arguing against loosening sanctions against Cuba last year, DeLay warned that Fidel Castro "will take the money. Every dime that finds its way into Cuba first finds its way into Fidel Castro's blood-thirsty hands.... American consumers will get their fine cigars and their cheap sugar, but at the cost of our national honor."
DeLay has long been one of Congress' most vocal critics of what he calls Castro's "thugocracy," which is why some sharp-eyed TIME readers were surprised last week to see a photo of the Majority Leader smoking one of Cuba's best, a Hoyo de Monterrey double corona, which generally costs about $25 when purchased overseas and is not available in this country. The cigar's label clearly states that it was made in "Habana." The photo was taken in Jerusalem on July 28, 2003, during a meeting between DeLay and the Republican Jewish Coalition at the King David Hotel in Jerusalem. Full story: http://www.time.com/time/nation/article/0,8599,1054968,00.html?cnn=yes#busted.
Miami Herald: State agency temporarily blocks abortion for girl in foster care
Girl, 13, fighting DCF bid to block abortion
The state and child advocates face off in court over the case of a 13-year-old foster child who wants to end her pregnancy. BY CAROL MARBIN MILLER
cmarbin@herald.com
West Palm Beath, April 28 -- The plight of a 13-year-old Palm Beach County foster child, who is pregnant and wants an abortion, is pitting children's advocates against Florida's child welfare agency, which has custody of the girl and has asked a judge to forbid her from ending her 13-week pregnancy. Full story: http://www.miami.com/mld/miamiherald/news/11508044.htm.
D.H.: DCF, the Department of Children & Families, is the same Florida agency that sought to intervene in the Schiavo case. It is relying on a state statute that prevents it from consenting to an abortion, sterilization or termination of life support for anyone in its care. Agencies representing the girl say she does not need DCF's consent for an abortion. The judge ordered a psychological evaluation to see if she is competent to make that decision and recommend what is in her best interest.