Thursday, December 29, 2005
DH: Hammond filed for commissioner today
Abilene, Dec. 29 - Merkel native Bob Hammond, 54, shown below right handing his filing papers to County Chair Dave Haigler, announced his candidacy today for commissioner of Precinct 2 in Taylor County, at 11:30 a.m., at Democratic Party headquarters at 453 Pine Street.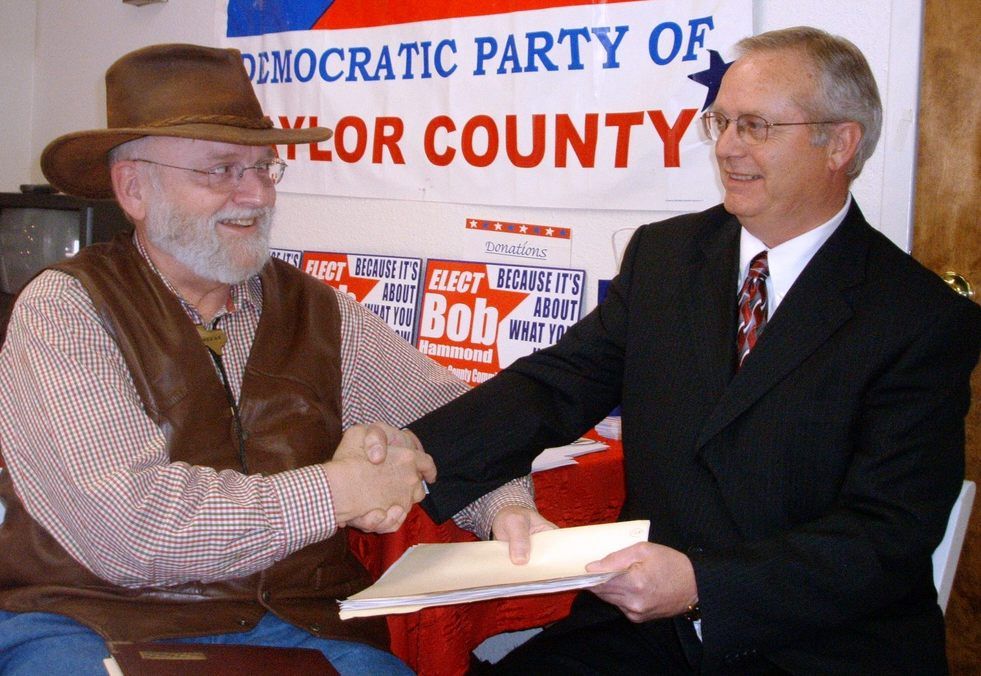 He will face incumbent Corky Cox in the March Democratic primary election, and Democratic challenger Dwayne Tucker.
Cox is seeking a third term. Hammond has not previously run for public office.
''I have been attending virtually all Commissioners Court meetings and am very interested in county government,'' Hammond said. ''I am interested in using my business experience to keep tax rates from rising. I think there are ways that have not been utilized to keep tax rates down.''
Hammond is executive director of the Abilene Association of Independent Business Owners. He said he would step down from that position if elected commissioner.
He was formerly an owner of the Ben Franklin store in Merkel and the executive director of the Merkel Economic Development Corporation. During his tenure at MEDC, the corporation won the 1999 Texas Community Economic Development Award.
Hammond is a frequent participant in Abilene City Council meetings and Planning and Zoning meetings.
He and his wife, Michelle, have two daughters and three grandchildren.
Cox is a retired teacher, coach and administrator. Tucker is owner/operator of Dwayne's Dozers, a dirt contracting company.
Dave Haigler Bob Hammond
325 677-4343 669-6823

Donate to DemLog, a project of Marcus Comton (click on box below to go to PayPal and donate). Thank you very much: